OK, so in the wake of AusBowl I was approached by Virral, the Commissioner of this year's Eucalyptus Bowl (EucBowl) to paint an extra special set of prizes he had organised: the CMON Monster Dice!
I had seen these dice before, and the amazing painting jobs that the pros at CMON had done on them. Suffice to say, it was an honour to have been asked in the first place, and I was just itching to get my hands on them.
They arrived a few days ago and I eagerly opened them up and had a good look. They are resin pieces. I've had a little bit of experience with resin, but nowhere near as much as with plastic or metal. I don't know if it's my small sample size, but I find the casting of resin can be a little variable. In this case the casting was a little bit strange in some places and, even after trying to sand it down to smooth, once I undercoated I still found some small imperfections.
Having said that, these were fairly minor (only to be brought up by a pedant like myself).
I thought long and hard about how I was going to present these though. My brief was fairly simple: each one mounted on a seperate base to be used, potentially, as re-roll counters. Beyond that the creative process was open.
So, obviously my first thought, and probably a novel one for these particular minis, was a Blood Bowl theme. So the first set was assembled with this in mind. You will find out exactly what this means as I post some pics, but for the moment, my working titles for the first set are:
"Not the Skull"
"Tentacles"
"Dead"
"Red Card"
"Always Hungry"
The second set are still forming in my head, but will be less BB themed. In fact, they will probably be based around five elements (air, water, earth, fire and life). But these are still in process.
So I guess you want to see some pics though, right?
Well, the first one from the list is finished, so without further ado I present "Not the Skull":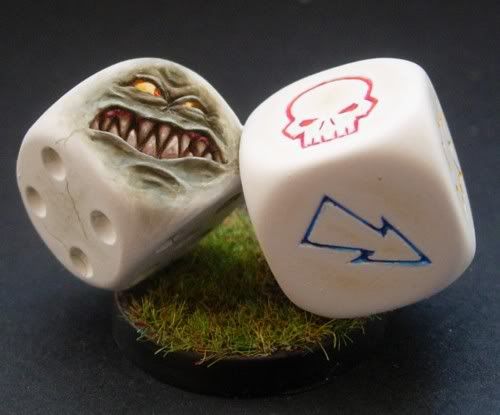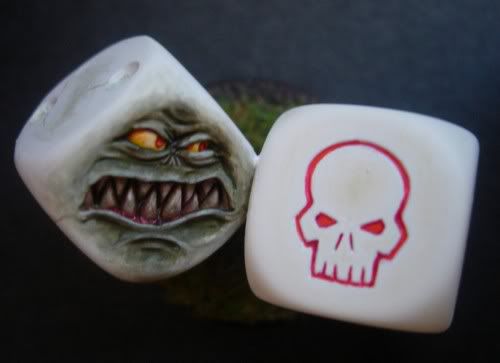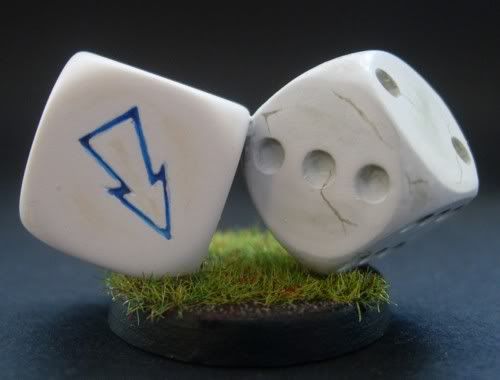 I'm really happy with how this turned out. I have yet to varnish the piece, and looking at it now I'd like to put a white line on the base (a sideline) to give it a bit more. The pics don't show it up as well as I would like, but there is a decent amount of subtle shading on the white areas. You also can't see in this pic the yellow POW symbol on the outside face of the block die, or the POW-Dodge (orange) or POW-block (red and yellow) on the inside and bottom respectively.
Remember above how I noted there were some small imperfections in the casting? Well, this actually gave me an idea. I needed something to provide a little bit of extra interest on the vast white areas, and I also needed to incorporate some of these small imperfections into the final piece. The solution - the greenish-grey 'cracks'. I really like how these have turned out and, while I didn't want to over-do them, I feel I have struck the right balance between not enough and too many.
Anyway, I hope you like them and, having shown them to Virral, I was very glad he liked it too. More to come as I do them... next up, Red Card!
Oh, and get along to EucBowl if you can. My budget is not up to it unfortunately, but it is one of the biggest and best Blood Bowl tournaments in Australia. And if you go you just might win one of these sets of monster dice!